Danae

---
---
Danae
· 10 years experience
Hi! I'm a Spanish girl living in Prague. One of the things I love the most is nature and I enjoy it going for long walks. I have had a dog and a cat since I was a kid but, unfortunately, they are in Spain and I miss them so much that I thought I should give all that love to your pet.
---
Veletržní, 170 00 Praha 7-Holešovice, Chequia
---
Pets I can visit:

Cats Dogs
Birds
Rodents
Turtles
Fish
Pets I can board:

Cats
Birds
Rodents
Turtles
Fish
---
Sundays to Thrusdays (4pm - 9pm) / Fridays and Saturdays (Full availability)
---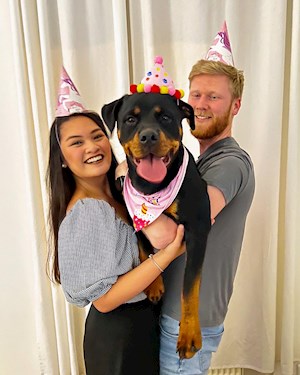 Kimberly
Danae took care of our Yuki for 2 weeks. She was incredible! Yuki also seemed to be attached to her now. We were on vacation and Danae was updating us everyday. She's sent us photos and videos and sent us updates on what they were doing. She's taken really good care of yuki and would take her out for long walks every day. She's pretty hands-on and super trustworthy! She even took notes to make sure she got all the information she needed. Thank you again Danae! Hopefully we get to have you again to look after our baby. I know Yuki is already missing you!
24/06/2022
· Pet Sitting
---
Review
---
Prague
,
cat visits
,
dog visits
,
dog walking